OVSD Test Scores:
Ocean View School District is comprised of 45% Unduplicated Students which are students in foster care, English Learners, and those that are socioeconomically disadvantaged. English Learner (EL) students comprise 26% of OVSD's population. Minority students make up 59% of OVSD's students population.
By contrast, OVSD's closest neighboring district, Huntington Beach City School District has a very different population. When looking at overall numbers and test scores, OVSD students and teachers are doing a great job, and student achievement is a work in progress. Improvement is ongoing and measurable based on yearly gains.
See graph from Orange County Register Article from March 3, 2015 for details on demographics for both districts.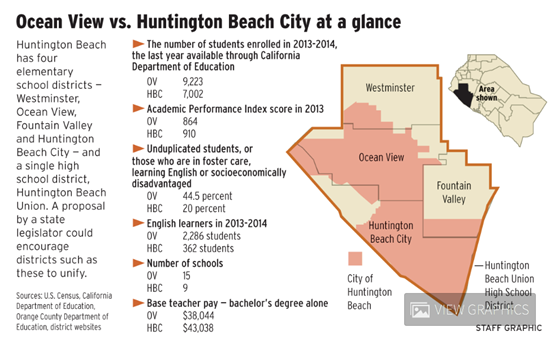 English Language Arts in OVSD:
English Language Arts tests scores from 2015 to 2016 have increased in all grades in the OVSD in all grades from 3rd to 8th.

Online test scores can be found here directly from the California Department of Education: http://caaspp.cde.ca.gov/sb2016/ViewReport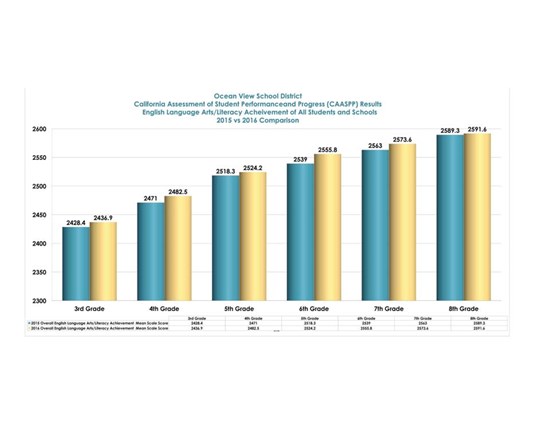 Mathematics in OVSD:
Math tests scores from 2015 to 2016 have increased in all grades in the OVSD except for 5th grade which remained the same.

Online test scores can be found here directly from the California Department of Education: http://caaspp.cde.ca.gov/sb2016/ViewReport