AD72 News-CA Democratic Party ADEM Election Announcement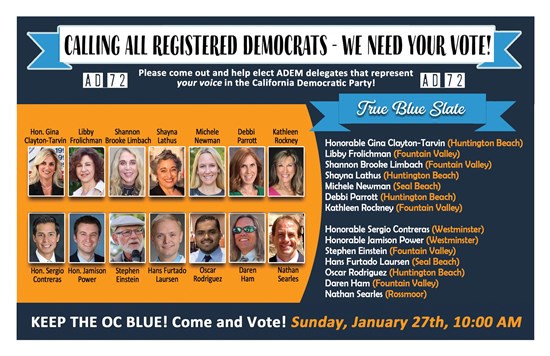 Huntington Beach, CA-Vote for Democrat State Party Delegates. It's time for all registered Democrats living in Assembly District 72 to come out to vote for CA Democratic Party Delegates for the Statewide Central Committee. Vote for the AD72 True Blue Slate to represent your voice and votes at the yearly CA Democratic Party Conventions in 2019! Vote will occur on Sunday, January 27th at 10am at IAMAW District Lodge 725, 5402 Bolsa Ave, Huntington Beach, CA 92649. Proudly endorsed by Congressman Harley Rouda!
*Note all titles used for identification purposes only. This post was not made in cooperation with the OVSD Board of Trustees.