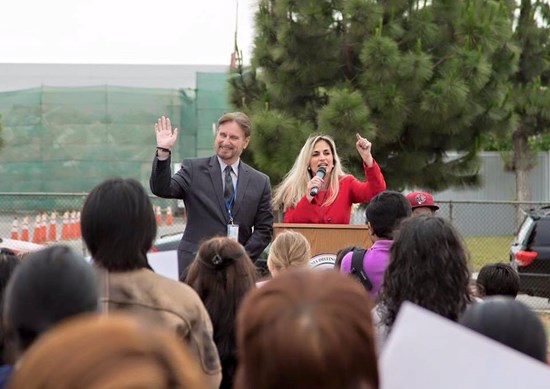 Gina Clayton-Tarvin began living in Huntington Beach as a teen in 1989 in various parts of the community including in the Huntington Harbour, the College View tract, and eventually the Mesa View tract. While living in HB she attended California State University, Long Beach for her undergraduate degree, and eventually graduate studies. She finally started her teaching career in the ABC Unified School District while concomitantly attending graduate school at CSULB in 1995. While taking night classes, Clayton-Tarvin worked days in the ABCUSD at elementary, middle, and high schools as a substitute teacher. She then began teaching full time at Fedde Junior High School in Hawaiian Gardens in 1996 in both the math and science departments working with 7th and 8th grade students. While at Fedde she was instrumental in creating, procuring, and implementing the Magnet School Assistance Program grant. She was the chief writer of the science portion of the $3.4M federal Department of Education grant. She served as the magnet school's science coordinator and later as its lead magnet school coordinator as a teacher on special assignment.

While serving Fedde students, she also worked as adjunct staff for CSULB's MESA Engineering Program (MEP). In 1997 she began working for the ABC Federation of Teachers, AFT Local 2317, AFL-CIO as a Site Representative at Fedde Middle School and continued on in this position for eight years, as well being elected to the ABCFT Executive Board as Recording Secretary for four years, then as Middle School Vice-President for four years as well as serving four years as Vice-President-at-Large.

After ten years at Fedde Junior High, in 2006, she then moved to Cerritos Elementary school where she has been teaching the 6th grade GATE program for the past 16 years. She has been certified as a specialized GATE teacher by the Orange County Department of Education. She is also serving as the Cerritos Elementary School ABCFT, AFT Local 2317 Site Representative and has done so for the past fourteen years. While at Cerritos Elementary School, she co-authored the California Distinguished Schools Recognition Program application in 2 separate cycles. The first award was granted in 2008 and the second in 2014. Her latest work has resulted in Cerritos Elementary School receiving the U.S. Department of Education National Blue Ribbon Award during September 2021.

Gina Clayton-Tarvin holds a Bachelor of Arts degree in Anthropology. Her graduate studies included Applied Anthropology and Education. She holds a California Multiple Subjects Teaching Credential as well as a California Secondary Single Subject Credential in Biology with an English Learner Authorization and Crosscultural, Language, and Academic Development (CLAD) Certificate and is authorized to provide instruction to English learners.The graduate course work for her credentials was completed at CSULB and UCLA. She is credentialed to teach K-12 and Adult School. She has worked for Special Education as a homeschool teacher as well. She successfully completed the California School Boards Association Masters of Governance program and received her certification in 2014.

She has taught for 26 years at both the elementary and secondary levels, and she understands the diverse needs of students, parents, teachers, taxpayers, and the Ocean View School District. She also working as a Teacher Mentor in the the Cerritos College CPTP Program preparing young teachers to become future educational professionals. She was elected for her first term to the Ocean View School District Governing Board of Education on November 6, 2012 as a trustee and has served until today, currently as the vice president of the Board of Trustees for the year 2023, and served as president for 2022. Gina Clayton-Tarvin resides in Huntington Beach with her two school-aged sons. She is an active member of the Mesa View PTSO and the Cerritos PTA. She is a volunteer sponsor for Friday Night Lights. She is an active member of the Surf City Optimist Club serving children in need, a member of the Sunset Beach Woman Club, as well as a member of American Legion Auxilary, Unit 133. She speaks Italian, Serbo-Croatian, and Spanish languages and has resided abroad to study and research.

Ocean View School District is one of the top performing school districts in Orange County and the state. With award winning teachers, classified employees, administrative leadership and an experienced board of trustees, the district is a destination educational institution in California. We are proud to be part of the fabric of Huntington Beach and have been educating kids here since 1874.

Thanks to the voters of OVSD and the passage of Measure R in 2016, the plans for modernization, repairs, and upgrades to school facilities are making OVSD the premiere school district in Southern California, providing state of the art facilities along with first class learning opportunities for 21st Century learners. Huntington Beach schools that have been modernized are College View, Hope View, Lake View, Marine View, Oak View, and Westmont. Currently Vista View in Fountain Valley is under construction for 2021-2022, and Star View in Midway City will be worked on in 2022-2023. Mesa View in Huntington Beach will be modernized in 2023-2024.

Since originally being elected in 2012, she has served as board president in the years 2015, 2016, 2017, 2020, and 2022. She has served as vice-president in the years 2019 and 2023. She has served as clerk of the board in 2018 and 2021. During her time on the board of trustees, she has worked diligently to build a team that made partnerships, not politics, a priority. School improvement in the Ocean View School District is an ongoing process. Parents and teachers now have a seat at the table where quality education decisions are made. Measurable results include: improving student achievement, providing challenging academics, decreasing class sizes, and increasing the number of art, music, and after-school programs. We have improved technology and are dedicated to providing state of the art learning environments for all students.

During her twenty-five year career as a classroom teacher, union leader, and elected school board trustee, she has learned the importance of actively listening to and collaborating with parents, teachers, and staff to increase efficiency, resolve issues, and empower the people who work with our students everyday. Students and families in the HB and the rest of the Ocean View School District are her top priority. She is proud to have been endorsed by hundreds of teachers, first responders, doctors, nurses, youth sports leaders, parents, and other community members. Clayton-Tarvin is now in her 3rd term on the Board of Trustees ending in 2024.

*This is the official campaign page of Gina Clayton-Tarvin, elected official. All opinions here are her own, and not those of the OVSD Board of Trustees. No taxpayer dollars were used in the creation of this website.