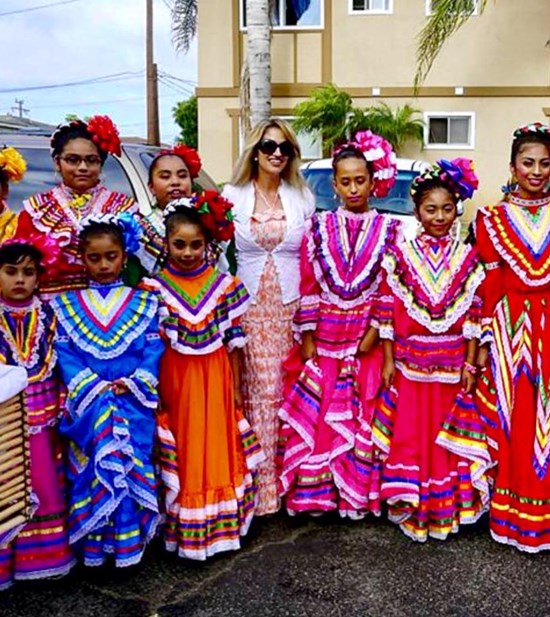 A Message from Gina Clayton-Tarvin, Trustee

Advocating for lower class sizes, and focusing on increasing student achievement while navigating the challenging Common Core standards, are some of my primary goals for the Ocean View School District.
Expanding renowned GATE programs to more schools in OVSD and advocating for more innovative magnet school programs like the newly opened STEAM program at Lake View are top priorities for me.
Ocean View School District is on the right track, with stable and experienced administrative leadership in both the offices of the superintendent and deputy superintendent. Along with highly competent teachers and staff dedicated to students, OVSD is a premiere educational institution in the State of California.
Thanks to the voters of OVSD and the passage of Measure R, the vision and plan for repairs and upgrades to school facilities, will make OVSD the premiere educational destination in Southern California, providing upgraded and modern facilities along with first class learning opportunities.
This year, I am serving as the clerk for the board of trustees, after serving as the board president for the past three years. During my presidency, I built a team that made partnerships, not politics, a priority. School improvement in the Ocean View School District is an ongoing process. Parents and teachers now have a seat at the table where quality education decisions are made. Our schools are on the right track, and I will continue to work diligently so that we can do even better. Despite our challenges, our students are involved caring citizens and academically motivated learners.
Measurable results include: improving student achievement, providing challenging academics, decreasing class sizes, and increasing the number of art, music, and after-school programs. We have also improved technology and have embarked upon a full modernization program with Measure R funding to providing state of the art, safe, and healthy learning environments for all students.
During my twenty-two year career as a classroom teacher and teacher leader, I have learned the importance of actively listening and collaborating with parents, teachers, and staff to increase efficiency, resolve issues, and empower the people who work with our students. Students in the Ocean View School District are my top priority. I am proud to have been endorsed by hundreds of teachers, parents, and community members. I am proud to have been re-elected to serve the OVSD Community. Thank you for your support, we are Ocean View Strong!
News
Tuesday, November 13, 2018 6:39 PM
OVSD Board News-Circle View Student Performance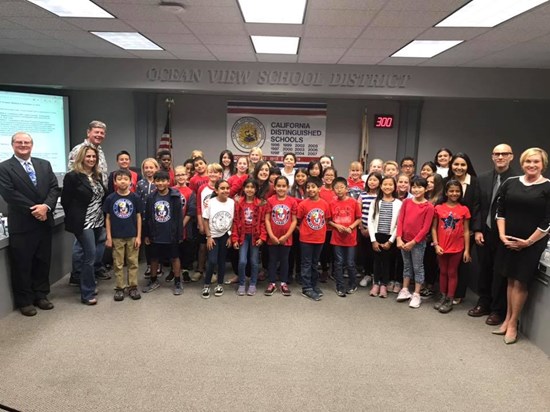 Huntington Beach, CA- Circle View Elementary School 5th grade students for your performance of patriotic songs and musical stylings under the direction of teacher Angela Greer!
---
Monday, November 12, 2018 6:35 AM
OVSD News-Veterans Day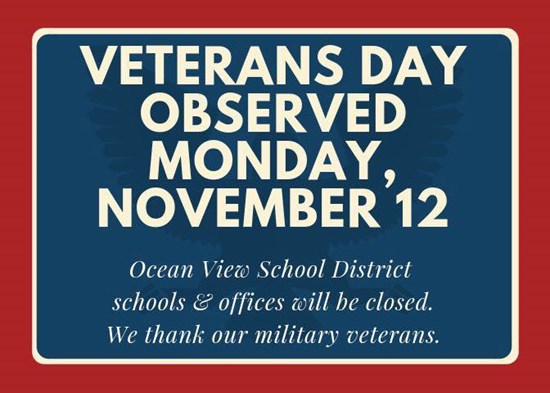 Huntington Beach, CA-Veterans Day originated as "Armistice Day" on Nov. 11, 1919, the first anniversary of the end of World War I. Congress passed a resolution in 1926 for an annual observance, and Nov. 11 became a national holiday beginning in 1938. Unlike Memorial Day, Veterans Day pays tribute to all American veterans, living or dead, but especially gives thanks to living veterans who served their country honorably during war or peacetime.
Thank you veterans, for all you have done to preserve our freedoms.
---
Friday, November 9, 2018 12:00 AM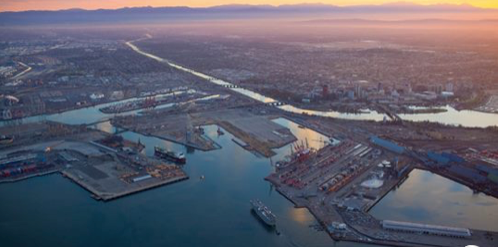 Long Beach, CA-Oil Tanker is Source of Gas Stench
As I have previously conveyed, the likeliest culprit for creating the nauseating gas odors which have sickened HB and other area residents has been confirmed today as being created by offshore oil tankers and "off gassing." South Coast Air Quality Management District inspectors have issued a violation to a crude oil tanker berthed in Long Beach for fugitive emissions in an action aimed at identifying and mitigating elusive coastal odors. AQMD officials have confirmed that at least one tanker has caused the nuisance and they will be citing the operator with a Rule 1142 violation and seeking a monetary settlement as a punishment.If you smell the noxious hydrogen sulfide stench in the future, please call the AQMD at 1(800) CUT-SMOG to immediately report it, and make sure to specify if you've suffered any ill health effects.Note, I'll keep advocating with the AQMD and other agencies to make sure this issue does not get neglected, and our health and safety ignored. Next AQMD Governing Board Meeting in December 7th at 9am.
---
Tuesday, November 6, 2018 11:24 PM
Election Night Results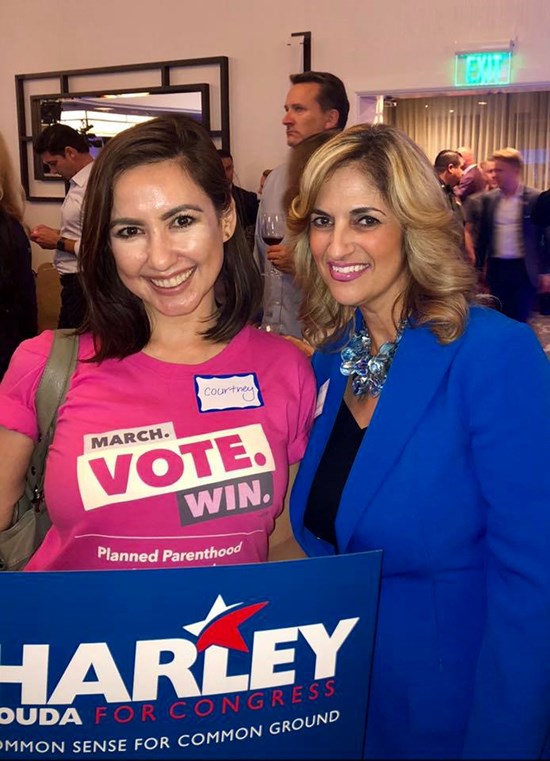 Newport Beach, CA-At the Harley Rouda for Congress CA48 victory party in Newport Beach with Courtney Long, a voter from OVSD. So happy about the early returns. My colleagues trustees Jack Souders, Patricia Singer, John Briscoe will win this evening too.
---
Tuesday, November 6, 2018 7:30 AM
Endorsements from CA Teachers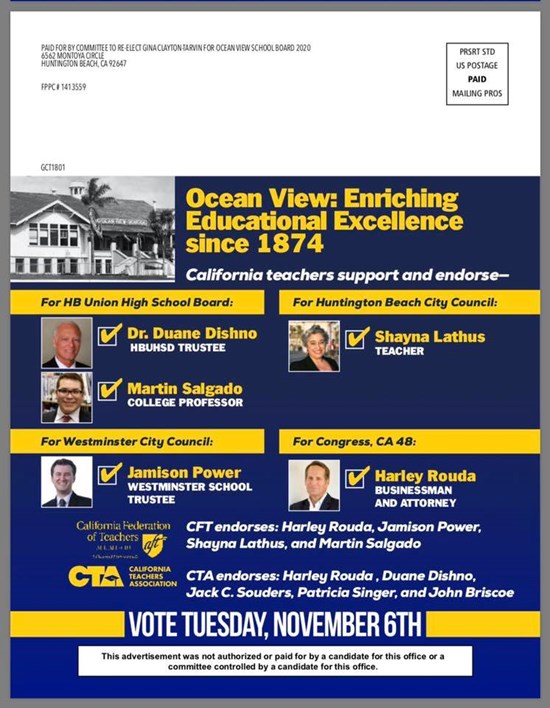 Election Day Information: Consider for your votes!
Huntington Beach Union High School District (HBUHSD)
Dr. Duane Dishno
Martin Salgado

Huntington Beach City Council
Shayna Lathus

Westminster City Council
Jamison Power
CA Congressional District 48

Harley Rouda

Ocean View School District (OVSD)
Jack Souders
Patricia Singer
John Briscoe

Other Races:
CA Senate District 34
Tom Umberg

CA Assembly District 72
Josh Lowenthal

OC Sheriff-Coroner
Duke Nguyen