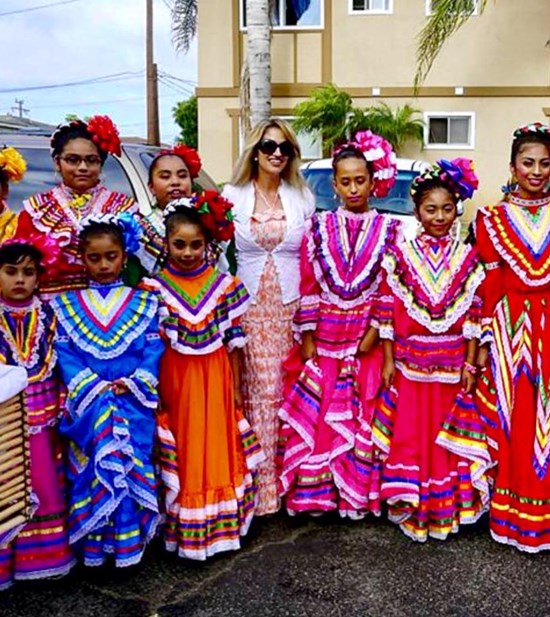 A Message from Gina Clayton-Tarvin, Trustee

Advocating for lower class sizes, and focusing on increasing student achievement while navigating the challenging Common Core standards, are some of my primary goals for the Ocean View School District.
Expanding renowned GATE programs to more schools in OVSD and advocating for more innovative magnet school programs like the newly opened STEAM program at Lake View are top priorities for me.
Ocean View School District is on the right track, with stable and experienced administrative leadership in both the offices of the superintendent and deputy superintendent. Along with highly competent teachers and staff dedicated to students, OVSD is a premiere educational institution in the State of California.
Thanks to the voters of OVSD and the passage of Measure R, the vision and plan for repairs and upgrades to school facilities, will make OVSD the premiere educational destination in Southern California, providing upgraded and modern facilities along with first class learning opportunities.
This year, I am serving as the clerk for the board of trustees, after serving as the board president for the past three years. During my presidency, I built a team that made partnerships, not politics, a priority. School improvement in the Ocean View School District is an ongoing process. Parents and teachers now have a seat at the table where quality education decisions are made. Our schools are on the right track, and I will continue to work diligently so that we can do even better. Despite our challenges, our students are involved caring citizens and academically motivated learners.
Measurable results include: improving student achievement, providing challenging academics, decreasing class sizes, and increasing the number of art, music, and after-school programs. We have also improved technology and have embarked upon a full modernization program with Measure R funding to providing state of the art, safe, and healthy learning environments for all students.
During my twenty-two year career as a classroom teacher and teacher leader, I have learned the importance of actively listening and collaborating with parents, teachers, and staff to increase efficiency, resolve issues, and empower the people who work with our students. Students in the Ocean View School District are my top priority. I am proud to have been endorsed by hundreds of teachers, parents, and community members. I am proud to have been re-elected to serve the OVSD Community. Thank you for your support, we are Ocean View Strong!
News
Wednesday, September 12, 2018 8:45 PM
Uncovering Hate: OC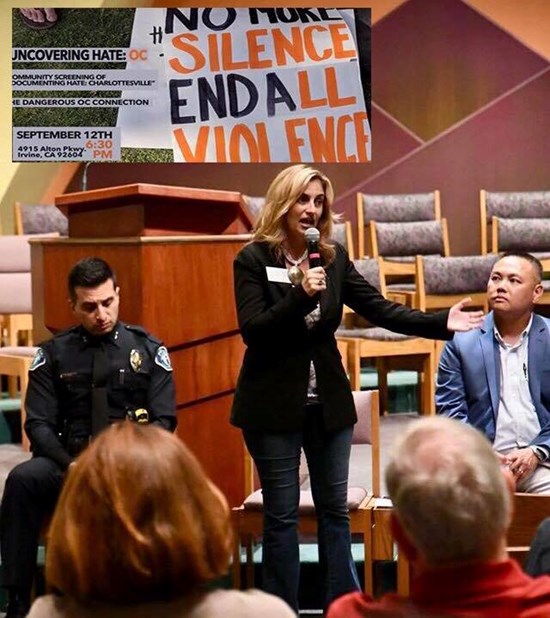 Irvine, CA-
Thank you to organizers of Uncovering Hate OC. I was invited to speak on a panel for a discussion after a screening of, "Documenting Hate:
Charlottesville" from PBS and ProPublica. The film shines an unflattering light on the rise of hate groups here in Orange County, including Huntington Beach. I spoke about the effects of extremism in our community and schools. It was an honor to sit on the panel with Hope Jackson, Human Rights Campaign; Marwa Rifahie, Civil Rights Managing Attorney, Council on American-Islamic Relations; Rabbi Peter Levi, Regional Director, Anti-Defamation League; Laura Kanter, Director of Policy, LGBT Center OC; Miliana Singh, Health Care and Transgender Services Coordinator, LGBT Center OC; Katie Porter, Law Professor, UCI; Don Han, Hate Crime Prevention Program Coordinator, OC Human Relations; Gabriel San Román, OC Weekly; and the Irvine Police Department.

---
Tuesday, September 11, 2018 4:00 PM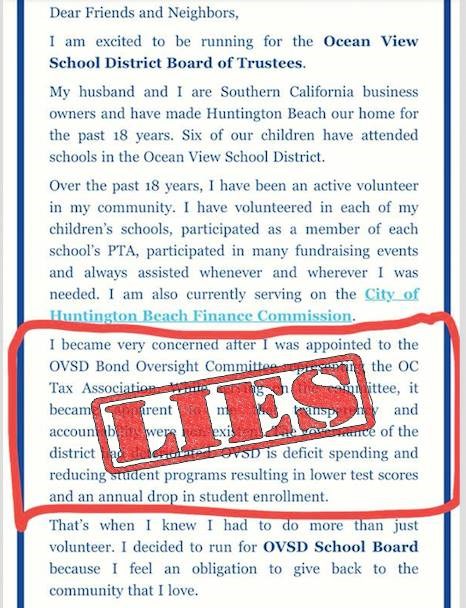 Huntington Beach, CA-Beware of false advertisements, sent by candidates for the Board of Trustees to purposefully deceive you. As a longtime trustee of the Ocean View School District, and public school teacher, I'm obliged to get accurate information out to parents and community members. I'm dismayed to see a new candidate for the OVSD board, Gracey Van Der Mark sending fraudulent emails to voters to mislead the community. See screenshot photo below from an email sent from her to thousands of voters, as unsolicited spam.

FACT: OVSD is transparent and accountable.
FACT: OVSD is NOT deficit spending per OCDE.
FACT: OVSD ranks as one of the highest scoring districts in OC and CA.

Please click on the link above to read the full article, including fact checked information from the Orange County Department of Education, the California Department of Education, and the Ocean View School District. Only trust verified state and county agencies for data in regards to claims made in regards to OVSD.

---
Thursday, August 16, 2018 12:00 AM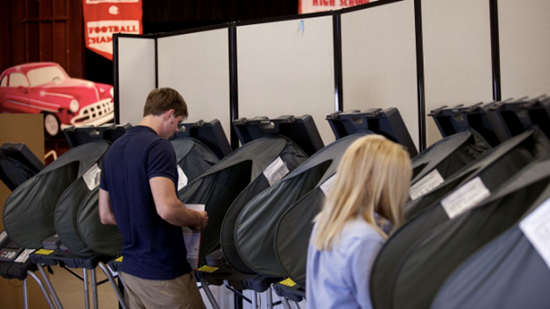 Huntington Beach, CA-From LA Times, this look at races in Orange County. Featured for Ocean View School District are three candidates that I know, support, and endorse. OVSD Baord President Jack Souders, Vice-President John Briscoe, and Trustee Patricia Singer should be returned to office, all dedicated to students and schools. Please read here by clicking the link above, scroll to the bottom for OVSD coverage.
---
Tuesday, August 14, 2018 12:00 AM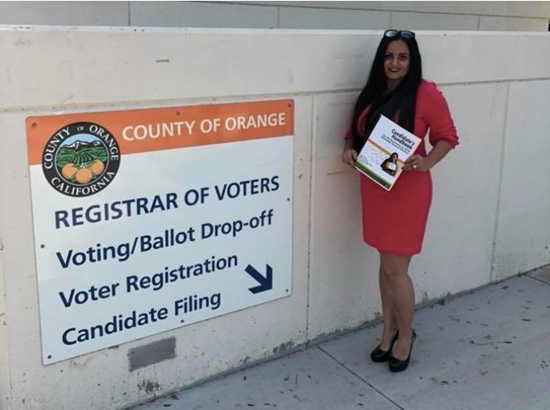 Huntington Beach, CA-With sadness, I regret to inform the Ocean View School District Community in Huntington Beach, Fountain Valley, Westminster, and Midway City that this coming General Election in November, the District will be faced with a choice, to reject hate or to allow a known anti Semitic person who works with white supremacists onto its Board of Trustees. Disruptive HB resident Gracey Van Der Mark, has filed to be a candidate for the board. This past April, Van Der Mark was removed from both the Ocean View School District's Measure R Oversight Committee, and from the Huntington Beach City School District's Measure Q Oversight Committee as well. Both school districts expelled her for bigoted and racist social media postings and for physically disrupting meetings of elderly Jewish residents. Gracey Van Der Mark is not the right fit to hold public office, especially one involving young children. I implore all voters of OVSD to join me and the Anti Defamation League in firmly rejecting her at the ballot box this November. Our school district does not need an extremist on its board to disrupt the education of our children. Please share this post to inform your neighbors.
---
Friday, August 10, 2018 6:00 PM
As I have maintained throughout these very stressful proceedings, and as the California Supreme Court has repeatedly stated, threats of violence are not constitutionally protected speech, and there has never been any merit to Johnson's Anti-SLAPP Motion. I am pleased to report that justice has been served and I prevailed in the ongoing case of harassment and threats by blogger and hate group leader, Huntington Beach resident Chuck Johnson. Johnson had threatened to kill me, attack my children, and bomb school district meetings, because said he during his court appearance, he had "Became aware of Ms. Tarvin's various far- or progressive, left-leaning ideology. I am very conservative and I began to take offense to it." This is America and although one can be offended by another, we don't threaten to harm each other. Therefore, Judge Sheila Recio ruled this past Thursday to deny Johnson's Anti SLAPP motion, essentially slapping down his violent threats and trying to cash in on them. Next up for Johnson, being arraigned on drug charges on August 22, 2018 in CA Superior Court. See LA Times article for details.