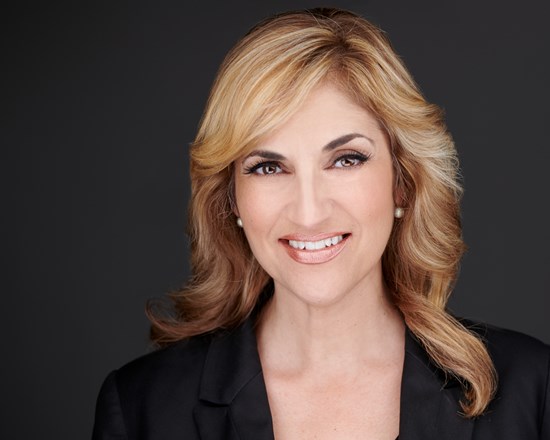 COVID-19: A Message from President Clayton-Tarvin
As you know, the coronavirus is a rapidly evolving public health crisis and we are strongly committed to providing you with the most current and accurate information possible. In an effort to ensure that all parents/guardians are receiving the important information we are sending, we performed a "reset" of preferences in Aeries Communication so that that you will receive messages via text, phone and email. It is imperative that you check your email frequently, as the volume of information we need to convey cannot be communicated completely in a phone message or text. All parent messages are also posted on our website at: www.ovsd.org/coronavirus. Schools are closed until April 17, 2020. All children are provided two meals at 9-11am, Monday to Friday at all 14 school sites. Grab and Go only, no gathering, keep moving. Follow the Governor's "Stay at Home" Order. If you must go out, adhere to strict social distancing of a minimum of 6ft. STAY HOME to save lives!
General Information about OVSD
Ocean View School District is one of the top performing school districts in Orange County and the state. With award winning teachers, classified employees, administrative leadership and an experienced board of trustees, the district is a destination educational institution in California.

Thanks to the voters of OVSD and the passage of Measure R, the plans for modernization, repairs, and upgrades to school facilities are making OVSD the premiere school district in Southern California, providing state of the art facilities along with first class learning opportunities for 21st Century learners.
I have been elected as board president for the year 2020, and served as vice-president for the year 2019, served as clerk in 2018, and served as president for 3 consecutive terms (2014-2017) prior to that. During my time on the board of trustees, I have worked diligently to build a team that made partnerships, not politics, a priority. School improvement in the Ocean View School District is an ongoing process. Parents and teachers now have a seat at the table where quality education decisions are made. Measurable results include: improving student achievement, providing challenging academics, decreasing class sizes, and increasing the number of art, music, and after-school programs. We have improved technology and are dedicated to providing state of the art learning environments for all students.
During my twenty-three year career as a classroom teacher and union leader, I have learned the importance of actively listening to and collaborating with parents, teachers, and staff to increase efficiency, resolve issues, and empower the people who work with our students everyday. Students in the Ocean View School District are my top priority. I am proud to have been endorsed by hundreds of teachers, parents, and community members. I am thankful to have been re-elected to serve the OVSD Community. Thank you for your support, as we are Ocean View Strong!
News
Saturday, March 28, 2020 12:00 PM
OVSD-DO NOT ENTER SCHOOL GROUNDS

EFFECTIVE IMMEDIATELY: All school grounds are to remain locked, no one shall enter or congregate in an effort to contain the spread of COVID-19. This extends the already existing dusk until dawn order to 24hr closures. Do NOT enter grounds for recreational purposes. You may still enter parking lots for food and materials distribution as directed by our Superintendent. Stay off playground equipment as the virus can exist on metal and plastic. Stay off all school properties. DO NOT ENTER.
Follow CA Governor's "Shelter in Place" Order
STAY HOME
---
Saturday, March 28, 2020 8:49 AM
Thank You OVSD Classified Maintenance Staff!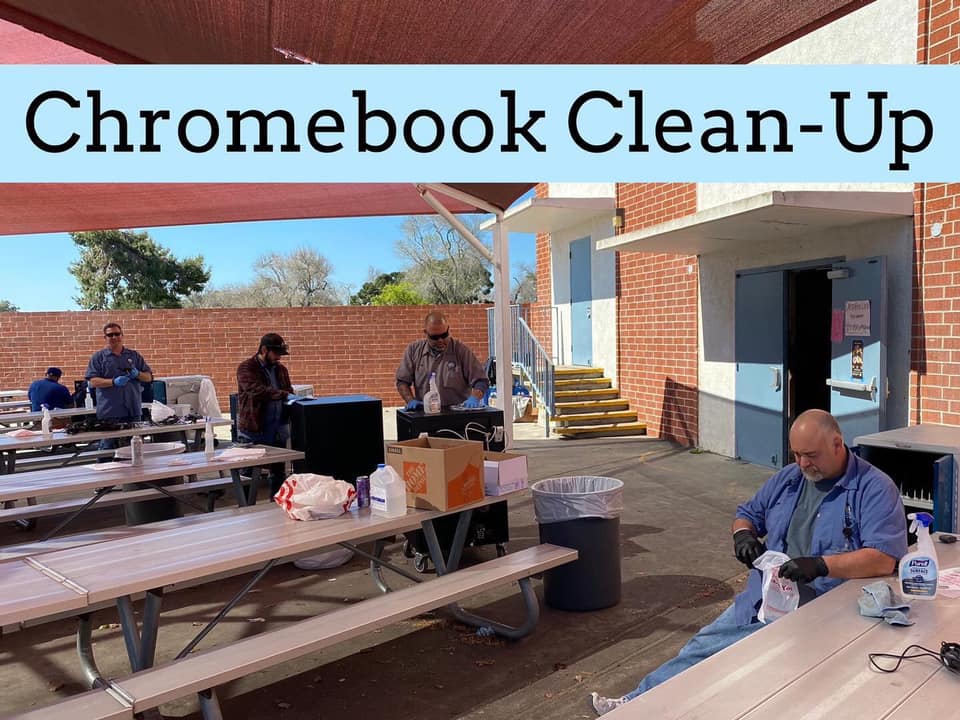 Huntington Beach, CA-Our Maintenance Crew is working hard sanitizing our student Chromebooks for distribution next week. Students will have access to critical electronic technology to distance learn while at home. If your child does not have access to a tech device at home, you may check-out a Chromebook at your child's school on the following days:

Monday, March 30, 1:00-4:00
Tuesday, March 31, 12:00-3:00

While on school campus, you MUST adhere to the most strict social distancing of 6ft. Follow the Governor's STAY AT HOME order. When done picking up Chromebook, no gathering, GO HOME.
---
Thursday, March 26, 2020 3:46 PM
OVSD- New Schedule for Meal Distribution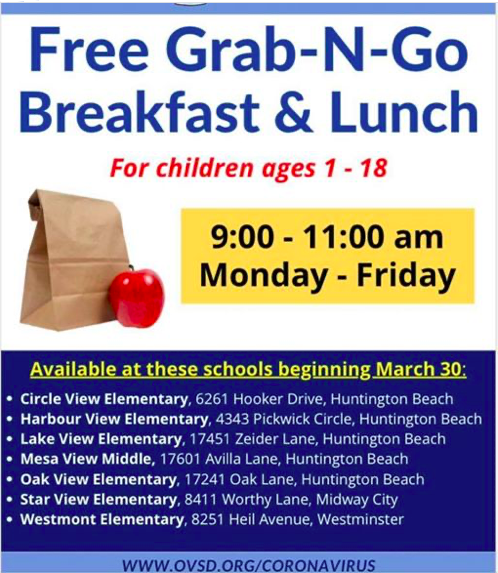 Huntington Beach, CA-We have been pleased to provide free Grab-N-Go breakfast and lunch meals for all children ages 1 - 18 at our school sites since the COVID-19 school closures. In an effort to support the Governor's STAY-AT-HOME order and reduce the risk of COVID-19 exposure in our community, we will be decreasing the number of sites offering the Grab-N-Go meals beginning Monday, March 30. However, you may pick-up meals at any of the participating sites. Breakfast and lunch will still be available for pick-up Monday through Friday from 9:00-11:00 am at the following schools beginning Monday, March 30, 2020. When at schools sites, conform to the most strict social distancing measures, stay a minimum of 6ft apart to avoid potentially spreading the virus. No gathering or congregating, get your meals and GO HOME.
---
Thursday, March 26, 2020 8:44 AM
OVSD Week 3 Packets are Online Now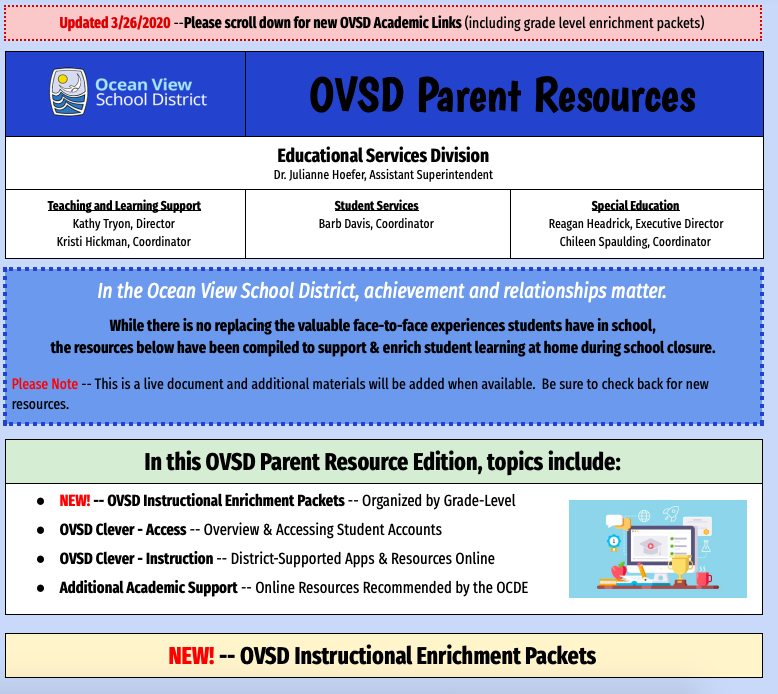 Huntington Beach, CA-Week 3 Grade-Level Instructional Enrichment Packets are available tomorrow. Printed packets will be available at all school sites on March 26 and 27 from 9:00am-11:00 am. While outside of your home, you must adhere to the Governor's STAY AT HOME order. No gathering or congregating, stay 6ft away from each other at all times, social distancing is mandatory. The packets may also be accessed on-line tomorrow in our Parent Resources Guide at:
Please note that accessing the link works best from a computer.
---
Wednesday, March 25, 2020 4:40 PM
Coming Soon- OVSD Distance Learning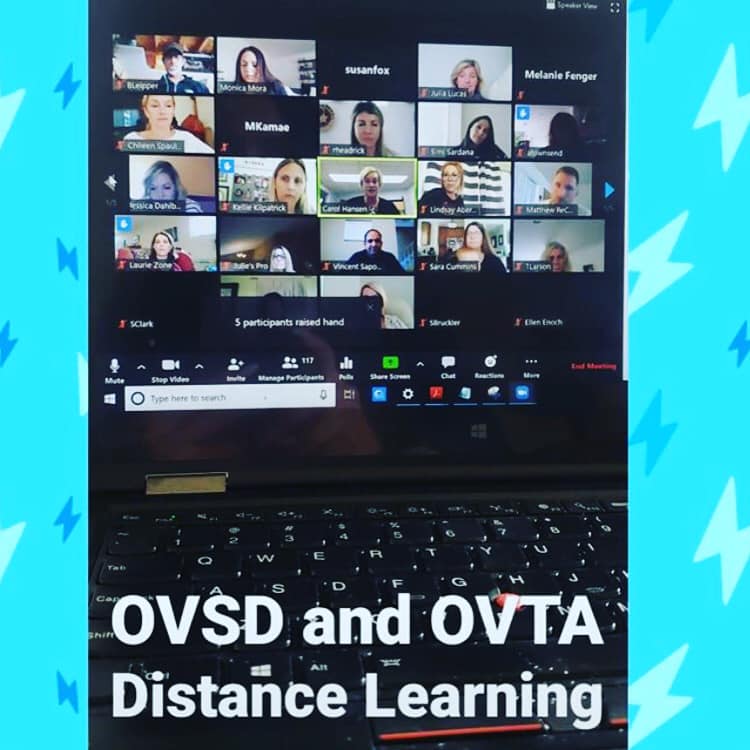 Huntington Beach, CA-Our District staff and teachers association have met and decided that interactive online Distance Learning will officially commence on April 1, 2020 for all students. This will supplement our current online curriculum access and packets already being used. We understand that some students may need a device to work from at home. However, we need to limit the loaning of Chromebooks to only our neediest families. ANY DEVICE will do to engage in on-line learning. A computer, laptop, or tablet will work when students are engaging in the on-line learning. It doesn't have to be ONLY a Chromebook. In addition, if you need internet access, information about how to get free Spectrum internet access for 60 days is included here.
Chromebook Checkout at all school sites:
March 30th from 1-4pm at all schools
March 31st from 12-3pm at all schools
We ask that everyone adheres to the strictest social distancing of 6 feet minimum during the checkout to protect the health and safety of our community, and we ask that you come back at a later time if you see a large line.
If you do not have internet access at home, local cable provider Spectrum is offering 60 days of free internet service. To obtain the service, please call 844-488-8395 and, at the prompt, choose "New Service" to get details and arrange installation.