Ocean View Vice President Gina Clayton-Tarvin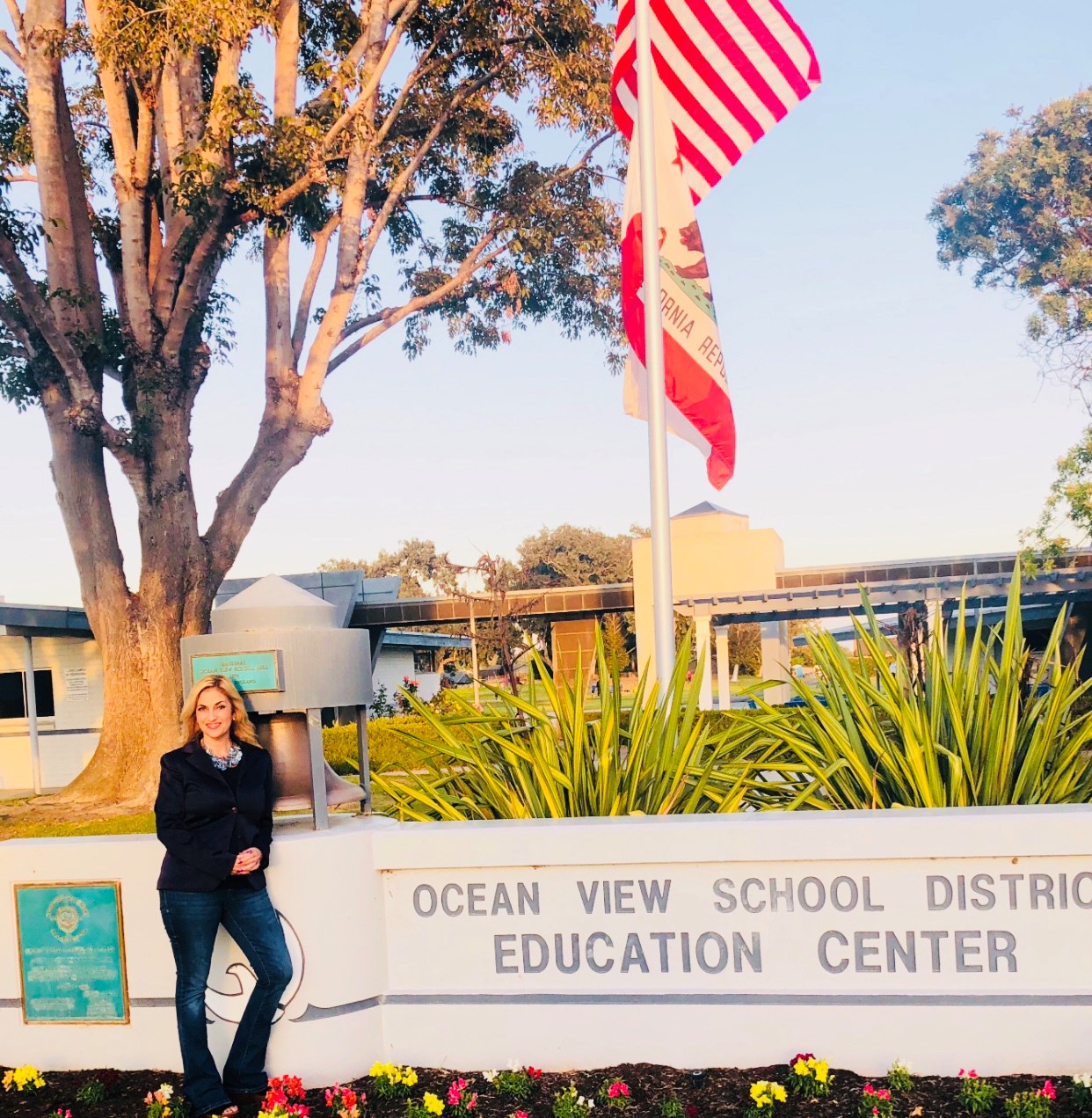 News
Tuesday, April 18, 2023 7:25 PM
Measure R Update
Huntington Beach, CA-Listen in for history on the Measure R bond passage and current progress on projects. Vista View is in final stages, Star View under construction now, and Mesa View is next to be modernized. Brand new Circle View HVAC systems installed over Spring Break (ESSER funds). More news on future work to come. Thanks to the voters of OVSD for passing a landmark measure, first ever since 1874, and the Ocean View's founding.
---
Tuesday, March 14, 2023 8:29 PM
Clayton-Tarvin Speaks on Importance of SPED Services
Huntington Beach, CA-Last night, our board of trustees heard multiple reports from our esteemed staff, and the most important report in my opinion was that from the Special Education Department. Back in 2019, the Board requested and commissioned a Study Overview. Chileen Spaulding, Director of Special Education, provided a presentation on a study that was conducted to evaluate special education services in OVSD. Many stakeholders were interviewed including teachers, staff, administrators, students, parents, even me, as president of the board in 2020. When the pandemic struck, the interviews went virtual, but continued on. The results were presented to us and we all made our voices heard on the important matter. Although OVSD has high SPED costs, the cost of not providing the best possible services to our most sensitive students can be devastating. All students have the right to a stellar public school experience. Our special needs students are our pride and joy and we must vigorously advocate for them. The Special Education Department is working to address the study recommendations and provide for our kids. Support programs include Student Study Teams (SST), Response to Intervention and Instruction (RTI2), and Multi-Tiered System of Supports (MTSS). I'm proud of our ongoing work and will continue my steadfast advocacy for our special needs students.
---
Wednesday, February 22, 2023 2:00 PM
NO on OVSD School Closures
Dear OVSD Community,

At previous board meetings beginning in January 2023, I made an official statement that I am not in agreement with pursuing school consolidation or closures. However, a board majority identified consolidation as a priority focus area via consensus to move the process forward. I was in dissent.

At the January and February meetings as well as online, I have gone on record as being opposed to school consolidation. I understand that the process has caused some in the community to have concerns, and I concur.

I will continue to advocate strongly for safeguarding children and schools and look for alternatives to school closures.

What I've written herein are my own thoughts, and do not represent those of the board as a whole.

I was present last night for Circle View's meeting and will be in attendance for tonight's meeting at Village View. I look forward to hearing parent and stakeholder input.

Sincerely,

Vice President Clayton-Tarvin
---
Tuesday, February 14, 2023 6:24 PM
Trustee Comments 2/14/23
Huntington Beach,CA-At last night's board meeting we got a lot of important business accomplished. Even with all of the serious talk of consolidation of schools, CAASPP scores, and Measure R modernization updates, we still had a chance to hear a wonderful report from an OVSD student. Marine View 8th grader Isabella Parra, her principal, teacher, and family attended. Isabella gave a great speech on her experience with taking the wood shop elective, using the elaborate machinery, and creating with her hands. She also reported that she is now interested in taking shop in high school and visited Marina High to see what they have to offer. We discussed the importance of more young women getting involved in the trades and I offered to provide her with information about apprenticeships at the Orange County Carpenters, Local 714. Great opportunities are out there and students like Isabella are just the right young women to take them.
---
Thursday, January 26, 2023 6:10 PM
OVSD Kindergarten Information Night
Westminster, CA-It was my honor to represent the Board of Trustees on behalf of President Singer on Kindergarten Information night at Westmont School. Hundreds of parents, guardians and family members attended to learn about our amazing kindergarten programs all across OVSD. To learn more about our kinder programs, please visit https://www.ovsd.org