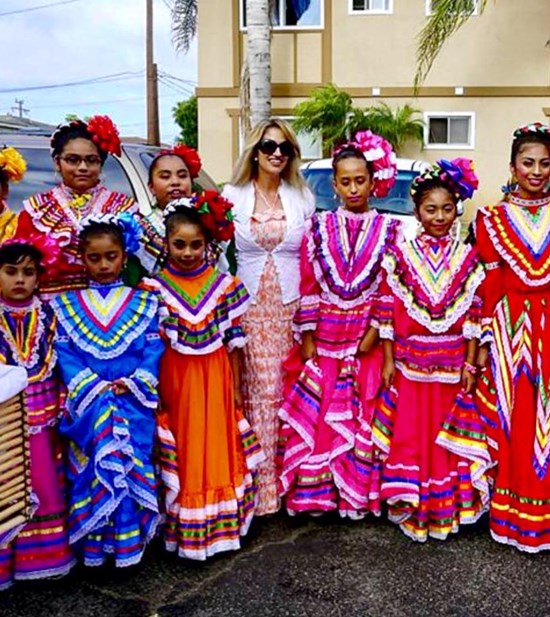 A Message from Gina Clayton-Tarvin, Trustee

Advocating for lower class sizes, and focusing on increasing student achievement while navigating the challenging Common Core standards, are some of my primary goals for the Ocean View School District.
Expanding renowned GATE programs to more schools in OVSD and advocating for more innovative magnet school programs like the newly opened STEAM program at Lake View are top priorities for me.
Ocean View School District is on the right track, with stable and experienced administrative leadership in both the offices of the superintendent and deputy superintendent. Along with highly competent teachers and staff dedicated to students, OVSD is a premiere educational institution in the State of California.
Thanks to the voters of OVSD and the passage of Measure R, the vision and plan for repairs and upgrades to school facilities, will make OVSD the premiere educational destination in Southern California, providing upgraded and modern facilities along with first class learning opportunities.
This year, I am serving as the clerk for the board of trustees, after serving as the board president for the past three years. During my presidency, I built a team that made partnerships, not politics, a priority. School improvement in the Ocean View School District is an ongoing process. Parents and teachers now have a seat at the table where quality education decisions are made. Our schools are on the right track, and I will continue to work diligently so that we can do even better. Despite our challenges, our students are involved caring citizens and academically motivated learners.
Measurable results include: improving student achievement, providing challenging academics, decreasing class sizes, and increasing the number of art, music, and after-school programs. We have also improved technology and have embarked upon a full modernization program with Measure R funding to providing state of the art, safe, and healthy learning environments for all students.
During my twenty-two year career as a classroom teacher and teacher leader, I have learned the importance of actively listening and collaborating with parents, teachers, and staff to increase efficiency, resolve issues, and empower the people who work with our students. Students in the Ocean View School District are my top priority. I am proud to have been endorsed by hundreds of teachers, parents, and community members. I am proud to have been re-elected to serve the OVSD Community. Thank you for your support, we are Ocean View Strong!
News
Friday, October 12, 2018 8:00 AM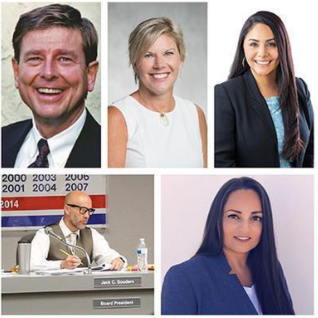 Huntington Beach, CA-Five candidates running for the OVSD Board of Trustees are highlighted in this article by Priscella Vega. Due to a late filing of his bio, president Jack Souders is not featured. He is a veteran middle school teacher in Long Beach Unified School District, he is a husband and father, and holds Bachelor's and Master's Degrees as well as a CA Teaching Credentials. He is a bilingual Spanish speaker and has lived in OVSD for over 20 years in the Haven View area. In this race, I am endorsing sitting board members: Jack C. Souders, Patricia Singer, and John Briscoe.
---
Wednesday, October 3, 2018 2:00 PM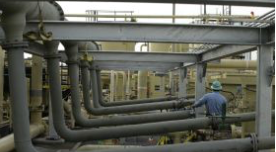 Huntington Beach, CA- Noxious odors have plagued our coastal communities for too long. These odors have caused illness and distress amongst residents, particularly effecting children, the ill, and the elderly. The HBFD has given misinformation on their Facebook page. The odors are NOT coming from a natural "methane plume" according to the AQMD. The City of Costa Mesa reported that the smells are originating from offshore oil platforms. However, until we hear from the lead agency, the AQMD on the matter, the exact origin of the odors is unknown. I will be speaking before the AQMD Governing Board on Friday, October 5, 2018 to relay the complaints of residents and to demand further action and investigation be taken. We must find out who is creating these offensive odors, and make them stop. If you have a comment you would like to relay to the Governing Board, please contact me via the "contact form" on this website and I will deliver your complaint to the AQMD.
---
Tuesday, September 25, 2018 8:11 AM
HB Leaders will not follow OCGOP Endorsement in OVSD Race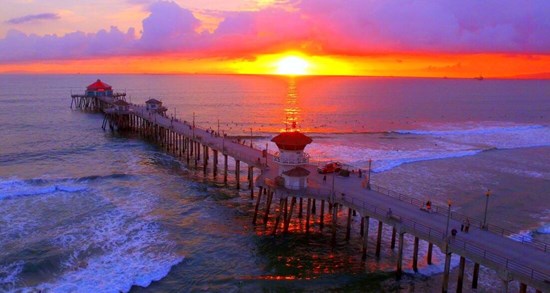 HB City Leaders Take a Stand Against Bigotry
Local Huntington Beach elected leaders City Attorney Michael Gates, Mayor Pro Tem Erik Peterson, and candidate for HB City Council Ron Sterud have rejected division in our community, and will not follow the Orange County Republican Party (OCGOP) in endorsing bigotry. None of these local Republican leaders will be endorsing Republic Trash Services (PAC) financed and controversial OCGOP candidate Gracey Van Der Mark for OVSD Board of Trustees. In April of 2018, she was removed by the Huntington Beach City School District and the Ocean View School District from their Citizens Oversight Committees for anti-Semitic postings and actions. Van Der Mark is unfit to serve on the school board. I ask that you join the Anti Defamation League and myself in rejecting her candidacy at the ballot box this November 6th to oppose bigotry and racism.
---
Wednesday, September 12, 2018 8:45 PM
Uncovering Hate: OC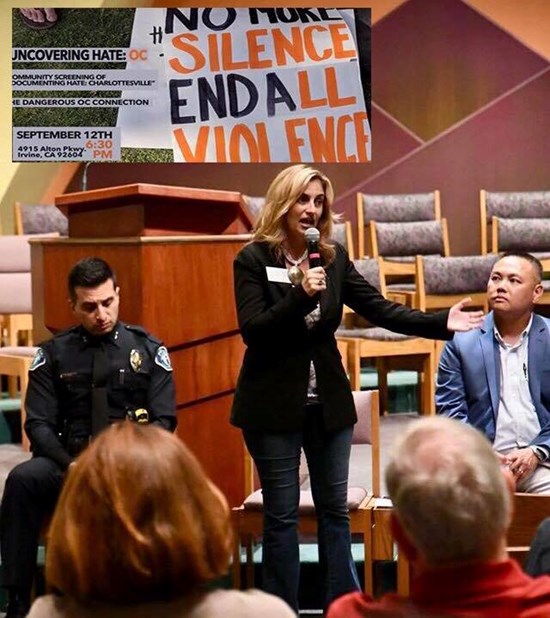 Irvine, CA-
Thank you to organizers of Uncovering Hate OC. I was invited to speak on a panel for a discussion after a screening of, "Documenting Hate:
Charlottesville" from PBS and ProPublica. The film shines an unflattering light on the rise of hate groups here in Orange County, including Huntington Beach. I spoke about the effects of extremism in our community and schools. It was an honor to sit on the panel with Hope Jackson, Human Rights Campaign; Marwa Rifahie, Civil Rights Managing Attorney, Council on American-Islamic Relations; Rabbi Peter Levi, Regional Director, Anti-Defamation League; Laura Kanter, Director of Policy, LGBT Center OC; Miliana Singh, Health Care and Transgender Services Coordinator, LGBT Center OC; Katie Porter, Law Professor, UCI; Don Han, Hate Crime Prevention Program Coordinator, OC Human Relations; Gabriel San Román, OC Weekly; and the Irvine Police Department.

---
Tuesday, September 11, 2018 4:00 PM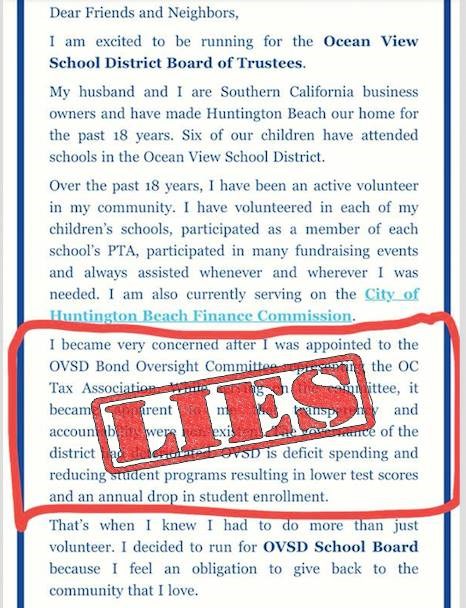 Huntington Beach, CA-Beware of false advertisements, sent by candidates for the Board of Trustees to purposefully deceive you. As a longtime trustee of the Ocean View School District, and public school teacher, I'm obliged to get accurate information out to parents and community members. I'm dismayed to see a new candidate for the OVSD board, Gracey Van Der Mark sending fraudulent emails to voters to mislead the community. See screenshot photo below from an email sent from her to thousands of voters, as unsolicited spam.

FACT: OVSD is transparent and accountable.
FACT: OVSD is NOT deficit spending per OCDE.
FACT: OVSD ranks as one of the highest scoring districts in OC and CA.

Please click on the link above to read the full article, including fact checked information from the Orange County Department of Education, the California Department of Education, and the Ocean View School District. Only trust verified state and county agencies for data in regards to claims made in regards to OVSD.