Harbour View 5th Graders Honor Veterans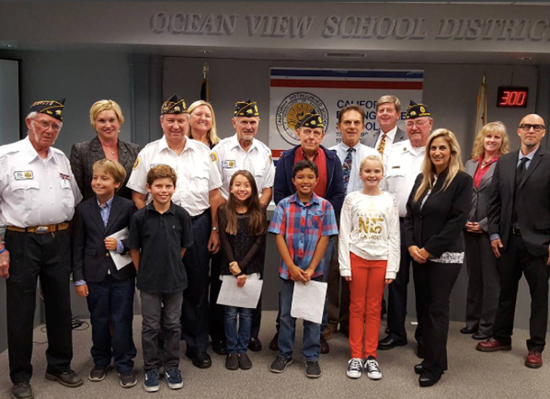 In honor of the upcoming Veterans Day, our Harbour View 5th graders did a great job honoring American Legion Post 133 Veterans from Huntington Beach at last night's Board of Trustees Meeting. The students recounted the courageous stories of 5 men who served our country.
Our 5th grade students and Post 133 veteran pairs that presented last night were student Alexa Wilde - veteran Norm Sumner, student Jacob Pearson - veteran Jon Gontarz, student Lili Price - veteran Jin Seiler, student Peyton Perry - veteran Dennis Bauer, and student Kelly Lane - veteran Bob Laizure. Students were accompanied by their parents, teachers, and Principal Cindy Osterhaut.
Thank you to all veterans, past and present for your service to our country and for protecting our freedoms. Your service to our country will never be forgotten.