TWO TEACHERS OF THE YEAR ANNOUNCED IN OCEAN VIEW SCHOOL DISTRICT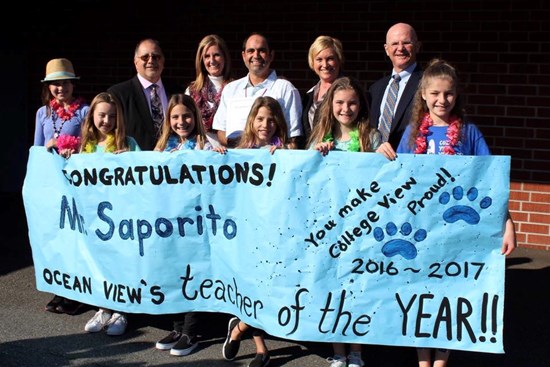 HUNTINGTON BEACH, CA, March 2, 2017– The Ocean View School District proudly announces its elementary and middle school Teachers of the Year: Deaf and Hard of Hearing Special Day Class Teacher Vincent Saporito and Spring View Middle School Teacher Jared de Lachica. Superintendent Carol Hansen and Executive Cabinet Members, in collaboration with College View and Spring View principals, surprised both teachers with the big news. Both dedicated individuals were selected after a District-wide nomination and committee process. They will be honored by the Board of Trustees at the April 4 Board Meeting.
Following the announcement of Mr. Saporito as Teacher of the Year in front of the staff and students at College View, Superintendent Hansen then revealed that Mr. Saporito was selected by the District committee to serve as OVSD's nominee for the county-level Teacher of the Year program.