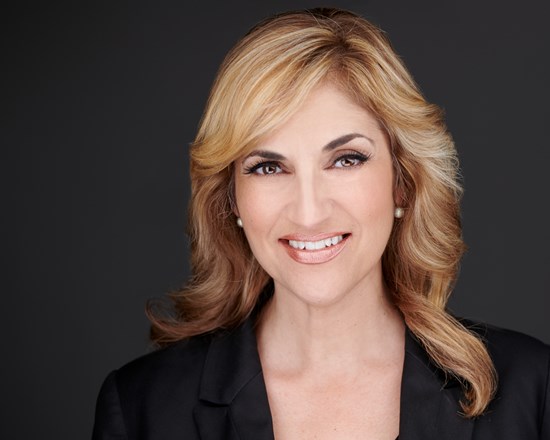 COVID-19: A Message from President Clayton-Tarvin
As you know, the coronavirus is a rapidly evolving public health crisis and we are strongly committed to providing you with the most current and accurate information possible. In an effort to ensure that all parents/guardians are receiving the important information we are sending, we performed a "reset" of preferences in Aeries Communication so that that you will receive messages via text, phone and email.
It is imperative that you check your email frequently, as the volume of information we need to convey cannot be communicated completely in a phone message or text. All parent messages are also posted on our website at: www.ovsd.org/coronavirus. School sites are closed for the 2019-2020 school year, but we are working on plans to reopen in the fall on September 9th for the 2020-2021 school year, if OC can meet the Governor's metrics and get off the "watchlist". See navigation bar above for COVID-19 tab under "On the Issues" tab. for detailed information on the District's website for details. Look for information from superintendent Dr. Carol Hansen on future board approved plans. In the meantime, this summer, we are providing children with two meals per day from 11am to 1pm, Monday to Friday at all OVSD school sites. Grab and Go only, no gathering please. Follow the Governor's orders, wear face coverings when visiting our campuses, and as directed elsewhere. If you must go out, adhere to strict social distancing, wash your hands, and avoid mixing with those outside of your family group. Do not mix with others, stop gathering and do the right thing. If we want schools to reopen as planned on September 28th, we must do our part to keep the OC COVID numbers down in the next several weeks. If we do not, and regress, OC will slip off the list and be held back in its reopening. Do not allow this, do what is necessary to get our kids back school. We are counting on you.
General Information about OVSD
Ocean View School District is one of the top performing school districts in Orange County and the state. With award winning teachers, classified employees, administrative leadership and an experienced board of trustees, the district is a destination educational institution in California.

Thanks to the voters of OVSD and the passage of Measure R, the plans for modernization, repairs, and upgrades to school facilities are making OVSD the premiere school district in Southern California, providing state of the art facilities along with first class learning opportunities for 21st Century learners.
I have been elected as board president for the year 2020, and served as vice-president for the year 2019, served as clerk in 2018, and served as president for 3 consecutive terms (2014-2017) prior to that. During my time on the board of trustees, I have worked diligently to build a team that made partnerships, not politics, a priority. School improvement in the Ocean View School District is an ongoing process. Parents and teachers now have a seat at the table where quality education decisions are made. Measurable results include: improving student achievement, providing challenging academics, decreasing class sizes, and increasing the number of art, music, and after-school programs. We have improved technology and are dedicated to providing state of the art learning environments for all students.
During my twenty-four year career as a classroom teacher and union leader, I have learned the importance of actively listening to and collaborating with parents, teachers, and staff to increase efficiency, resolve issues, and empower the people who work with our students everyday. Students in the Ocean View School District are my top priority. I am proud to have been endorsed by hundreds of teachers, parents, and community members. I am thankful to have been elected in 2012, and re-elected in 2016 to serve the OVSD Community. I am proud to announce that I have been re-elected for the General Election 2020, as no one filed to run against me. I am pleased to be able to serve for another term. Thank you for your support, as we are Ocean View Strong!
News
Tuesday, September 22, 2020 5:30 PM
Special Board of Trustees' Meeting
Huntington Beach, CA-Special Board of Trustees' Meeting to consider for approval several items including the Learning Continuity Plan (LCP) and the collective bargaining agreement between CSEA, Chapter 375 and OVSD for 2019-2022. See YouTube for video.
---
Thursday, September 17, 2020 10:38 AM
Vote For Oscar Rodriguez for HB City Council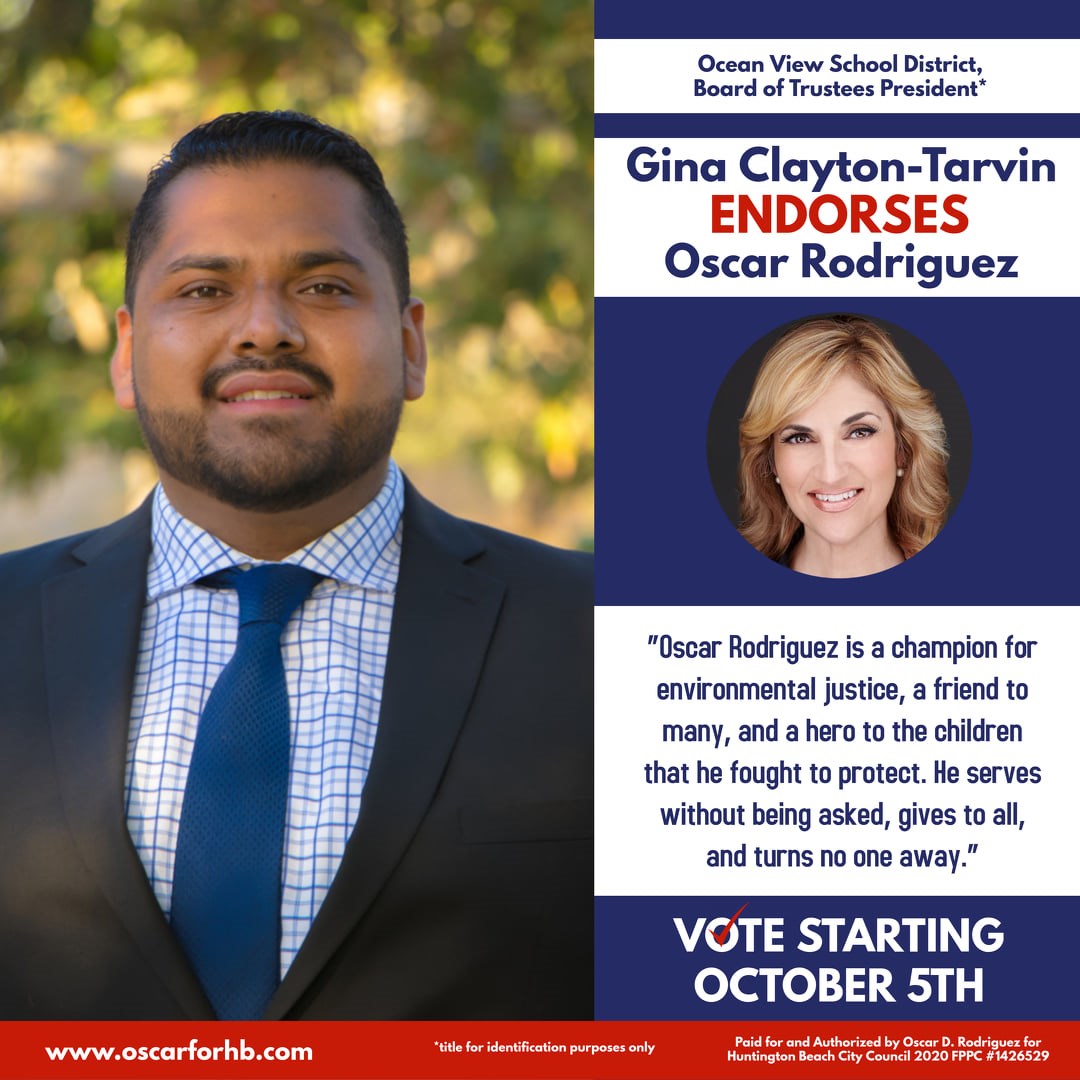 Huntington Beach, CA-What can I say? Oscar Rodriguez is a local hero. He is the example for so many in our community, to our students, to our youth. You are one of the finest "products" the Ocean View School District has helped to create. To know that one of our alumni is doing so much to give back to the community is phenomenal. Here's the thing, it is easy for people to say they care, but it's hard to actually do the work to show it. I support and endorse Oscar because he not only says it, he does it. He puts your money where your mouth is, a true leader that is not afraid of hard work. He does the hard work and never complains while doing it. I thank him for having our students' backs during the struggle for environmental justice in HB, getting this Rainbow Trash Dump under control. Without him, it would have never happened. We at OVSD are forever indebted. Starting this October 5th when absentee ballots begin to arrive and until Election Day, November 3, 2020, get out to vote. We can't afford any more inaction on our City Council. Anyone reading this, please do me a personal favor and donate to Oscar's campaign. Any dollar amount will help. I know how hard it is to win an election and it takes funds to get the message out. Even $5 will help, or if possible the maximum contribution of $600. Thank you for your consideration. Link to donate here, https://secure.actblue.com/donate/oscarforhb2020
---
Wednesday, September 16, 2020 8:30 AM
Las Fiestas Patrias, Mexican Independence Day Observed 🇲🇽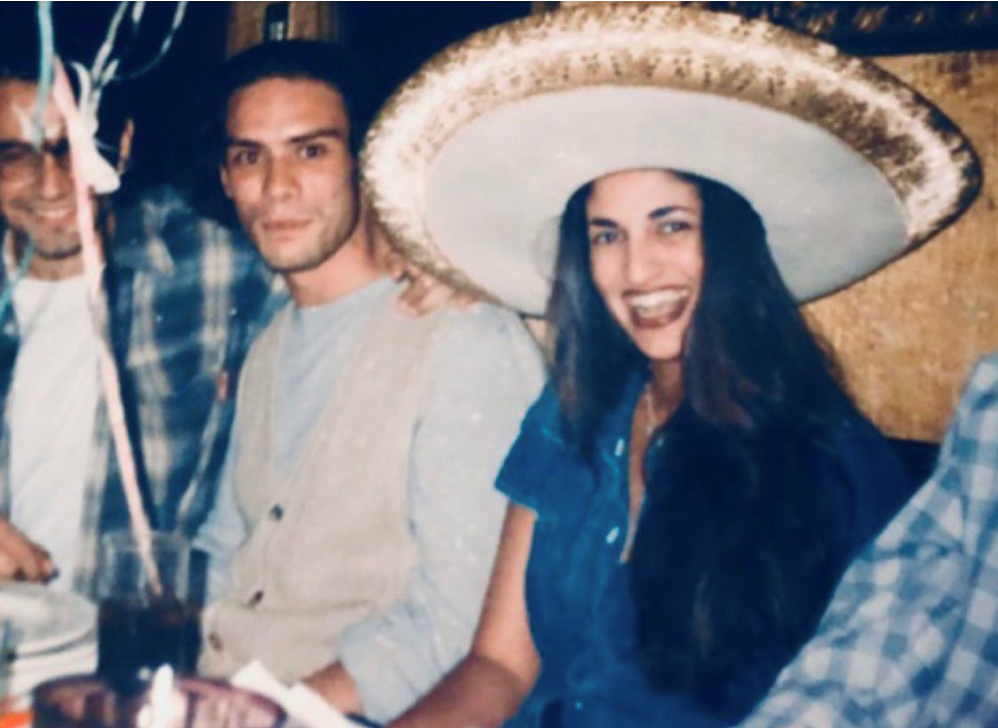 Mexico City, D.F. (photo from 1996)-The USA is not the only North American nation that gained independence from a colonial overlord. Mexico, our neighbor to the south was once controlled by the European power of Spain. This day September, 16, 1810, the Cry of Dolores rang out in freedom with the battle lasting until 1821. My first time celebrating Mexican Independence Day came in 1996 when I visited the capital of Mexico City, DF to experience the joyous occasion and witnessed the massive parade in the Zocolo and accompanying festivities for which I was photographed. Thank you to longtime friend and educator Gustavo Patiño for helping me to experience Mexico this way and to understand how our two nations are linked in so many ways, not only as neighbors, but in the struggle for freedom in our respective nations.
---
Tuesday, September 15, 2020 6:00 PM
OVSD Regular Board of Trustees Meeting
Huntington Beach, CA-Please watch our board meeting from last night to learn more about our 9/28 in-person reopening date, a construction update on our next Measure R project at Vista View, and much more including the LCP for this school year. The Open Session meeting begins at approximately the one hour mark (6pm). Toggle right to begin at that point. Any questions, please let me know below in the comments.
---
Monday, September 14, 2020 8:35 AM
New and Improved OVSD Lunch Schedule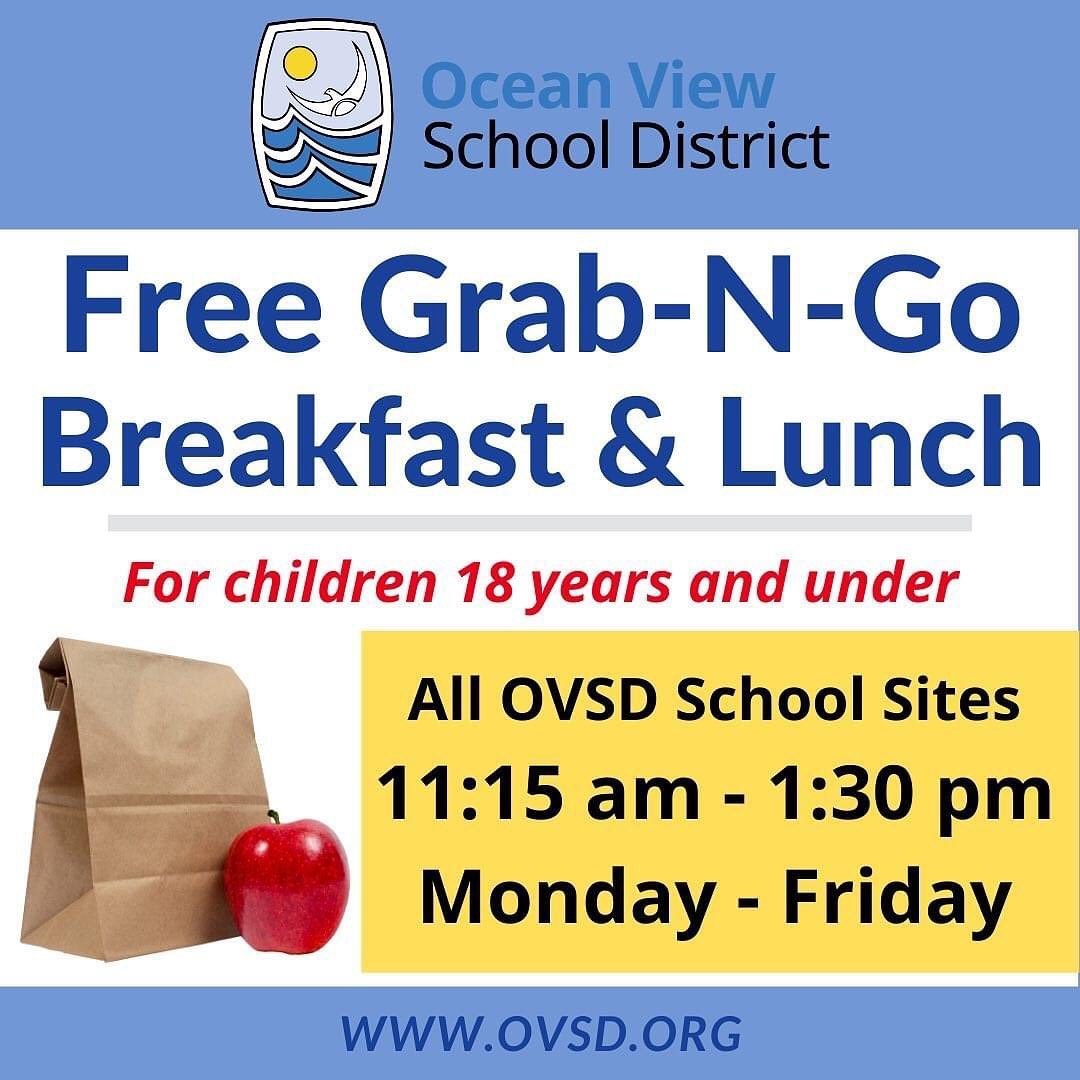 Huntington Beach, CA-In order to better meet the needs of our parents and students, the District has changed the pick-up times of our Grab-N-Go meals starting today, Monday 9/14. Please remember that masks and social distancing are enforced and meals must be consumed off-site. Thank you for your cooperation.